Published November 22nd, 2011 | Author: Wendy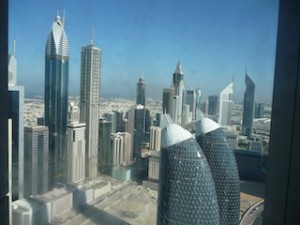 So after a snowy escape from Moscow on Saturday this was the view from my bedroom window on Sunday. Mr C has moved into a new apartment in Dubai and its got the most amazing views from floor 43.  Even if you're not a fan of modern architecture you can't fail to be impressed.  And by night the city lights up. Who needs curtains when you have a view like that.  One things for sure though, it certainly won't be me cleaning the windows!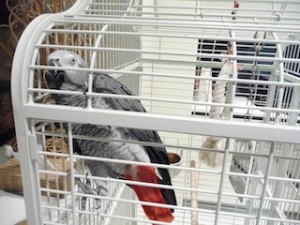 To tell you the truth it was the parrot that woke me up.  Didn't I mention we have a parrot here in Dubai?  His names Zazu and he is an African Grey.
He woke me up by declaring loudly 'Bonjour, comment allez vouz' (Mr C has been teaching him to parler francais), and then announcing 'I'm a parrot' still, better than last time I was here when he said 'hello fat bird' followed by 'show me the money'!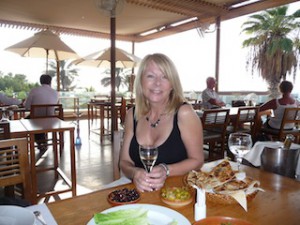 So as I had worked very hard in Moscow last week, I asked Mr C if we could please take the day off in order to chill out on the beach and buy me a late lunch (didn't take much persuading).
The sea water was warm and the sun shone, and at around 3pm we forced ourselves to move to Flooka fabulous fish restaurant and had ourselves a feast.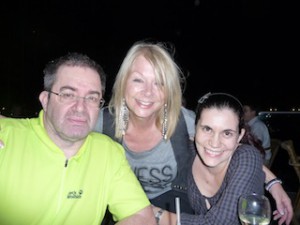 And Sunday night we met up with our favourite designer (not clothes, think brochures, websites, corporate image) Dave Forsdike creative genius and his lovely wife Claudia.
Dave has just designed our latest brochure and aircraft guide.  If you want a copy email [email protected] and they will send you one.  We met at Festival City at the Intercontinental hotels popular Belgian Bar, yes they think of everything here. Massive range of Belgian Beers and the menu is all Waterzooi and Beerplankt.  What a good way to end a lazy day