Latest Private Jet News
Published June 27th, 2011 | Author: Wendy
Oh what's occurin??  I'll tell you what… it's James Corden on line 1!!
Festival season is in full swing and the Private Jet Charter team are all systems go with last minute helicopter bookings for Glastonbury.  Dave Doughty our resident music industry broker and helicopter genius worked some magic yesterday when all around him were saying 'not possible' he found an EC135 helicopter that could take a welly clad James Corden, a wannabe Glasto-goer to join the party.
"Can you get me there mate?" said the 2008 Heat magazine poll comic, voted to have the 11th fittest male body! Whoar!!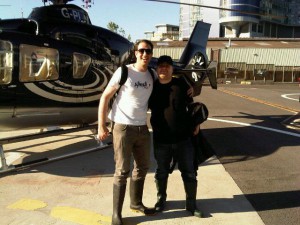 This guy has rockstar potential himself, anybody heard James Corden sing? Awesome! (He did a duet with Snow Patrol frontman Gary Lightbody at the Albert Hall to wide acclaim) although he is a self confessed massive Take That fan, and I quote "meeting Take That at the Brits was the greatest moment of my life", (sorry to disappoint, but I don't think they will be at Glasto Smithy.)
Anyway, the feedback from our James was Brilli-ant!!  All part of the service Smithy.. tell your friends about us

← Back to All News Articles